Be a Protector – Become a Member
Your tax deductible contribution helps to support our efforts to educate the public and our elected leaders of the importance of preserving Tule Springs. Now that the Monument has been created by Congress, our efforts will focus on volunteering our time and effort to assist the National Park Service in whatever way we can. We will work with our Congressional Delegation in getting the necessary funding, but will also partner with local community groups to build trails and access points into the Monument.
Members can volunteer to participate in many events throughout the year with hands-on activities for children, including the Las Vegas Science Festival, Get Outdoors Nevada Day, National Fossil Day, Nellis Military Appreciation Days, Clark County Trail Days and presentations to schools and community groups. Members can also be trained to lead hikes and other on-monument activities.
As a member, you and your guests will have the first choice of slots on any interpretive walks, access to special tours, and the quarterly newsletter keeping you apprised of recent and upcoming events.
Please join our efforts and support us as we create America's next National Monument!
Membership options are listed below.
In addition to the regular perks of membership, Lifetime Members will receive recognition on the web site and a Protectors name badge (1 for Individual, 2 for Family).
Volunteers are the lifeblood of our organization. As a friends group, we support both the National Park Service with the Tule Springs Fossil Beds National Monument (TUSK) and Nevada State Parks with the Ice Age Fossils State Park. There are many ways to get involved from participating in cleanups or sharing information about our organization at events, to building trails or even providing administrative support from the comfort of your own home.
TELL US YOUR INTERESTS
The first step is to submit a form with your volunteer interests. Depending on your interests, you will be contacted with more information on opportunities to get involved.
TRACK YOUR HOURS
Every time you volunteer, please enter the hours using this online form.  Tracking volunteer service helps Protectors qualify for grants and awards.
CELEBRATE EACH OTHER!
We love our volunteers and have just started a Protectors of Tule Springs volunteer recognition program. Our VIP Very Important Protector(s) will be announced at each Membership meeting.
To get involved right away, check out the upcoming events listed below.
Help us fulfill our mission by donating today! The Protectors of Tule Springs is a 501 C-3 non-profit. Your donations will help us to continue to support the National Park Service and Nevada State Parks as they protect the paleontological, archeological, and other scientific resources in the Tule Springs Fossil Beds.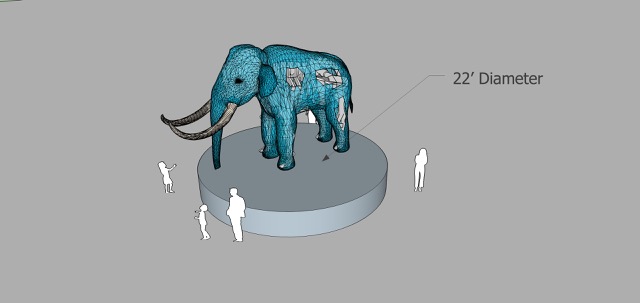 To make a donation specifically for the "Monumental Mammoth" sculpture project, please indicate "Monumental Mammoth" in the notes section on PayPal. The Gold Award project of a local Girl Scout, this project will require approximately $100,000 to design, produce and install.
Any donation is sincerely appreciated!
Use the "Donate Today" link below (all major credit cards accepted) or mail donations to: Protectors of Tule Springs, 517 S. 9th Street Las Vegas, NV 89101
Join the Protectors at some fun upcoming outdoor events:
PUBLIC LANDS DAY/NPS WEED WRANGLE
Saturday, September 25th from 9:00 -11:00 a.m. If you would like to help us rid the Monument of the invasive weeds which destroy native plant-life and create a fire hazard, contact:
DesireS@protectorsoftulesprings.org
NATIONAL PARK SERVICE PRESENTS PLEISTOCENE PALOOZA
Celebrate National Fossil Day with NPS on October 9th, from 9:00 a.m. to Noon. The modern descendants of the Pleistocene fauna that once roamed Tule Springs will be featured, including camels, horses, burros, small mammals, dogs, raptors, and tortoises. We need 15 volunteers to help at a variety of tables and keep things organized. To volunteer, email:
SandyC@protectorsoftulesprings.org
WILD AND SCENIC FILM FESTIVAL
Protectors will be out promoting our important work at this fun event on October 9 at Spring Mountain Ranch State Park. Check out in-person and live-stream options here. This is always a moving and memorable evening, hosted by Friends of Nevada Wilderness. To find out more and join the fun, reach out to:
SherriG@protectorsoftulesprings.org
STATE PARK TRAIL BUILDING EVENT
Stay tuned for more information on the next trail-building event for our new Ice Age Fossils State Park, slated to open later this year. Ice Age Fossils State Park (N. Decatur at Brent Lane)
MAMMOTH CLEANUP
No cleanups are scheduled at this time.
MEMBERSHIP MEETING
The next Protectors of Tule Springs membership meeting will be held IN PERSON on Tuesday, October 26th. The meeting will be held from 6:00-7:30 p.m. at the Sun City Aliante Clubhouse, 7390 Aliante Parkway. Masks are required in the Clubhouse and chairs will be spaced apart for social distancing.
The agenda will include updates from TUSK Superintendent Derek Carter and Ice Age Fossils State Park Supervisor Garrett Fehner as well as a special presentation from Jake Johnson, the teacher who participated in this summer's Teacher-Ranger-Teacher program at TUSK, which was funded by Protectors!  We hope you will join us, and bring a masked friend!
2022 membership dues will also be accepted 🙂
One of the perks of membership with Protectors of Tule Springs is that members are invited to attend these quarterly meetings with special speakers and updates on development of Tule Springs Fossil Beds National Monument. Renew or become a new member today!
"I'm a Protector" Monument Watch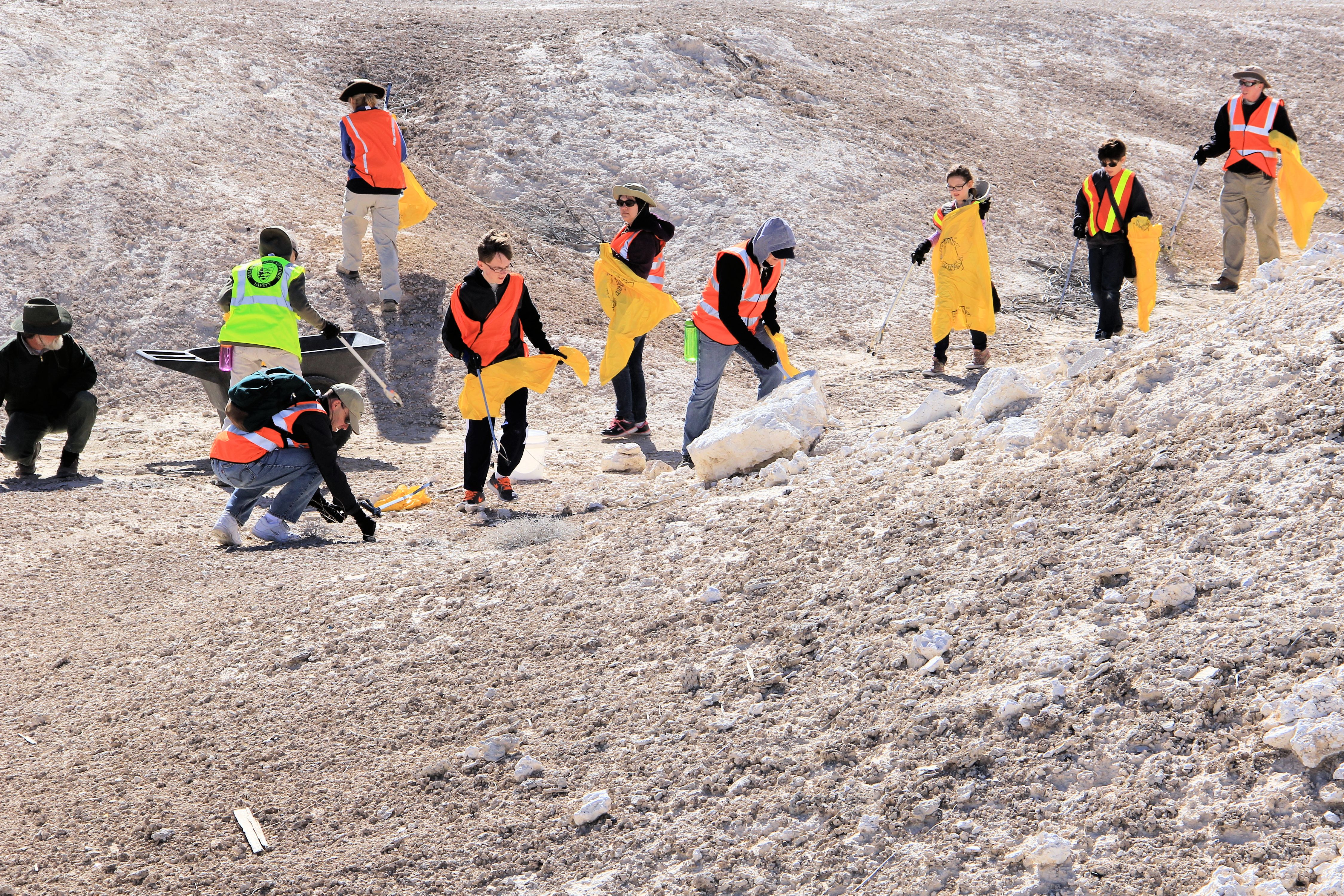 Tule Springs Fossil Beds was declared a National Monument in 2014 because of the significant natural resources within its boundaries. However, for years the area has been used as a recreational area for target shooting and off-road vehicles as well as an illegal dumping ground for trash. Although steps have been made to curtail activities that damage the area and detract from its beauty, incidents of dumping, driving and shooting in the protected area continue.
Protectors of Tule Springs in cooperation with the National Park Service (NPS) is launching a community watch program, "I'm a Protector," engaging residents and businesses near the monument to join in the effort to preserve the beauty and protect its resources for all to enjoy. Join this important public safety initiative and help protect and preserve the beauty of the natural spaces in your backyard.
We are always looking for people who want to participate in shaping this monument for future generations. It can be as simple as joining us for a trash collection or an educational event, or even joining the Protectors of Tule Springs.
To join the Protectors in this effort, please submit an interest form on the Contact Us page and we will contact you with more information.
The I'm a Protector program engages residents and businesses near the Monument to join in the effort to preserve the beauty and protect its resources for all to enjoy. Learn how you can join this important public safety initiative.
Direct Assistance to the TUSK and IAFSP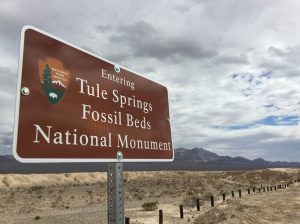 Protectors of Tule Springs fundraises for and provides direct financial assistance to the National Park Service and Nevada State Parks where areas of critical need have been identified that cannot be met by current governmental funding levels.
Protectors raised $20,000 for NPS' development and installation of two informational kiosks to be placed at the perimeter of the Monument boundaries where early visitors are most likely to access the land.
Protectors has raised and committed to provide funds to NPS to update an educational display that may be installed on a traveling basis at governmental buildings in the Las Vegas Valley.
Protectors has raised and committed to provide funds for an NPS sponsored three-part lecture series on the Pleistocene Era with paleontologists representing Tule Springs Fossil Beds, Waco Mammoth National Monument and La Brea Tar Pits.
The annual Mammoth Penny Push campaign has raised $36,000 to date to facilitate clean-up efforts on Monument land and to develop classroom materials.
Cherryl & Bob Adams
 Paul Aizley
John Anderson
Michael Anderson
Ronald Anderson
George Barrios
Marge Bisbee
Marc Bolduc
Brenda Bowman
Kathryn Brandel & Jack Kearns
Conroe Brooks
Dr. Joel & Bethann Casar
Richard & Gloria Cherchio
Tom Clarke
Carol Cohen
Ronald & Teresa Collucci
Julie Cooley
Susie Cornell
Sandy & Jim Croteau
Joan & Gary Davis
Jill & Tony DeStefano
Christine Devine
David Donovan
Matt Duniho
John Dooley & Colleen Hera
Ann Dye
Carolyn Edwards
Judy Fightmaster
Russell L. & Brenda Frank
Nilu Gavankar
Judy Gebhart
Nancy Gentis
Denise & Dwight Gerdes
Steven Grodkiewicz
Paul Grotheer
Sherri Grotheer
Betty Hamilton
Arlene Harris
Elaine Holmes
Susan Houston
Norman Ilchene
Marilynn Kaplan & Jack Cheney
George Kelesis
Marilyn Kirkpatrick
Kori Kloberdanz
Jim & Jan Kuhns
Christopher Langham & Family
Suzanne & Dan Lee
John & Marilyn Lee
Martha Lee
Xander Avi LeNeave
Joanne Leovy & Kurt Regner
Bruce Loeffler
Eileen Loughran
Sherry Lummis
Tom Mangione
Mary Manning
Amber Marshall
Barbara McCullough
Danielle Monroe-Moreno
George H. Morishita
Rob Mrowka
Mike Newton
Stan & Jan Nudelman
Jim O'Donnell
Gayle & Mark Pallans
Senator Harry Reid
Robert L. Riemer & Mary Savage
Terri Robertson
Lilly Ann & Larry Rothstein
Arnie & Mona Rudnick
Cathryne Ryan
Renie Sabol
Vincent Santucci
Don & Gaylynne Schaefer
Fred Schrock
Tim & Cindy Shaw
Carol Shimer
Amanda & Eric Simmons
Rick & Sharon Skipton
Brian & Jill Smith
Mario & Julie Smith
Steven C. Smith
Terry & Diana Smith
Dianne & Steve Sperry
Warren & Judy Stokey
Robert & Kay Stoldal
Brenda Strock
Susan Thatcher
Joan Togashi
Sandy & Norm Valley
Sue & Brian Wainscott
Richard Whitaker
Arthur Wolf
Anita Wood
Support Protectors and the Tule Springs Fossil Beds